LevMixer® System
Ideal for buffer preparation and product contact mixing
Point of Product
Ideal for buffer preparation and product contact mixing
Features and Benefits
Superconductive levitation technology. No shaft, seals or bearings inside the single-use mixer system: No mechanical shear.
High level of flexibility. Use one drive unit for multiple tank sizes to mix from 6 L to 1000 L.
Proven mixing technology capable to suspend powders and other solids without clogging or shearing.
Overview
The LevMixer system is specifically designed to fulfill the needs of the bioprocess industry. This system is a mobile, flexible mixing system that allows efficient and reproducible singleuse mixing of a wide range of volumes in a broad series of applications ranging from buffer preparation to final formulation. The LevMixer hardware has been engineered for use with Pall single-use systems (SUS) in cGMP certified cleanrooms.
The LevMixer system consists of an interchangeable superconducting drive unit and proprietary levitating impellerbased single-use mixing system fitted into either plastic tanks located on a trolley or stainless steel tanks. Once charged and coupled with the single-use system, the superconducting drive unit induces levitation and rotation of the impeller (Figure 1) resulting in effective mixing action inside a closed mixing system. Coupling of the impeller with the drive motor requires no dynamic seals or shaft penetration inside the single-use system. The drive motor is enclosed on a portable cart that can be easily disconnected from the single-use system and reconnected to another mixing system, allowing mixing in multiple single-use mixing systems of various sizes with a single drive unit.
The LevMixer system includes a real-time reading of the impeller speed and a process monitoring/alert capability. In case of any process disruption, the user is alerted. End users may access a detailed activity report during on-going applications to monitor the jacketed mixer either on site, or remotely from a different location.
Figure 1
The levitating impeller rotates inside a sterile single-use mixing system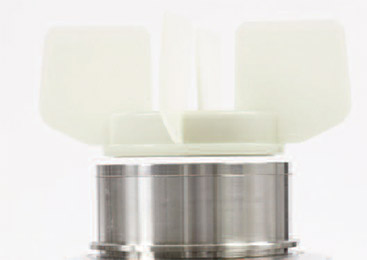 Additionally, the jacketed mixer may either be controlled on site or remotely, based on user preference. When operating onsite, users will benefit from an easy-to-use touchscreen PLC that features access to the mixing recipe in use.
The LevMixer system utilizes disposable mixing biocontainers made from Allegro™ film. It is animal derived component free (ADCF) and complies fully with USP Class VI requirements.
Figure 2
Mobile and flexible, the LevMixer system allows efficient mixing in a wide range of volumes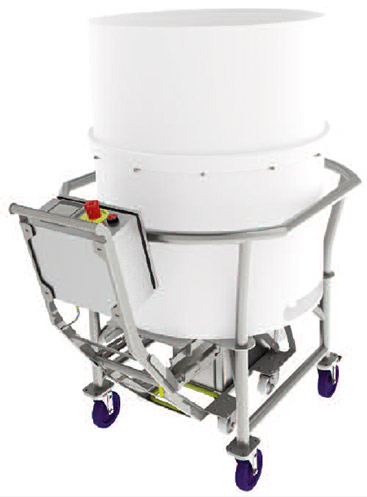 Technical Specifications - Drive Unit

| | |
| --- | --- |
| Parameter | Details |
| Power | Single phase 100V–230V AC, 50/60 Hz |
| Input Wattage | <350 watts |
| Footprint | 40 cm x 112 cm (16 in. x 44 in.) |
| Height | 92 cm to top of control box (36 in.) |
| Material of construction | 304 L stainless steel, at least 35 μin. Ra |
| User interface | Touchscreen PLC |
| Control box IP rating | IP 65 |
Technical Specifications – Single-Use System

Parameter

Details

Number of impeller blades

4

Impeller diameter

161 mm (6.35 in.)

Impeller and ports material of construction

High density polyethylene (HDPE)

Maximum RPM

210

Biocontainer film(1)

TK8 (ULDPE contact layer)

Temperature

4 – 60 °C

Shelf life

2 years

In process controls

Leak test (100%); Visual control (100%);
Seal strength – ASTM-F88 (per batch);
Cleanliness - USP<788> (monitoring);
Bioburden – ISO 11737 (monitoring)
(1) All components of Allegro film are animal derived component free (ADCF)
Technical Specifications - Standard Tanks

Parameter

Details

Material of construction

AISI type 304 stainless steel

Internal (SUS contact) surface finishr

Glass bead blasted Ra ≤ 1.2 μm (47 μin)

External surface finish

Glass bead blasted Ra ≤ 0.89 μm (35 μin)

Weld specifications

In accordance with EN ISO 15607
Specification and qualification of welding
procedures for metallic materials -
General rules

Welding quality standards

In accordance with EN ISO 5817
Welding: Fusion-welded joints in steel, nickel,
titanium and their alloys (beam welding
excluded). Quality levels for imperfections

Weld treatment

Ground smooth

Jacketed tanks operating range

Maximum 6.2 bar (90.0 psig) at -5 °C to +90 °C

Load cell accuracy

0.3% of the nominal volume

Quality Standards and Validation
The LevMixer single-use mixer biocontainers are 100% leak tested at manufacture.
All the mixer biocontainers are manufactured in a controlled environment(Class 10,000) certified to IS09001.
The materials of construction of the LevMixer mixer biocontainers meet:
Biological reactivity - In Vitro
USP<87> Biological Reactivity Tests In Vitro, Cytotoxicity
ISO 10993, Part 5: Cytotoxicity of Medical Devices
Biological reactivity In Vivo
USP<88> Biological Reactivity Test In Vivo for Class VI - 70 °C Plastics
ISO 10993, Part 6: Implantation Test
ISO 10993, Part 10: Intracutaneous Reactivity Test
ISO 10993, Part 11: Systemic Injection Test
USP<661> Physico-chemical Testing for Plastics
EP 3.2.2.1 Tests on Plastic Containers for Aqueous Solutions for Parenteral Infusion