Kleenpak™ Sterile Disconnectors
For Convenient And Secure Sterile Disconnection Of Flexible Tubing
Point of Product
The disconnector consists of a joined male and female unit, to fit tubing with 13 mm (½ in.) ID. Kleenpak sterile disconnectors can either be autoclaved up to 130 °C or gamma irradiated up to 50 kGy.
The Kleenpak sterile disconnector brings a major improvement to single-use technology in aseptic processing. It can be used at all stages of the process, but will be particularly valuable in upstream and formulation & filling, where both ease of use and sterility assurance are critical. Pall can engineer and manufacture state-of-the-art Allegro™ single-use systems with Kleenpak sterile disconnectors for all these critical applications.
Benefits
Disconnection can be performed in non controlled environment without compromising the sterility of fluid path
No capital equipment required
Disconnection is performed in seconds
Easy to make disconnection – even in cramped environments
Microbial control or sterilization by autoclave or gamma irradiation
Activation enables a sterile separation.
Locking mechanism prevents incorrect disassembly
Secure permanent disconnection security – cannot be reconnected
No flow restrictions as a result of using of the Kleenpak sterile disconnector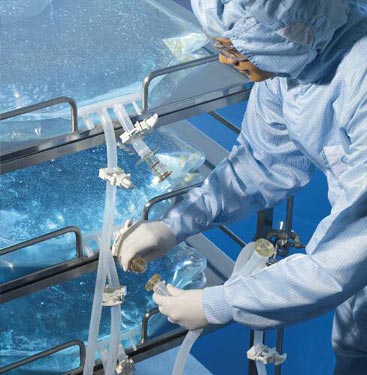 Warning: This product is not sold sterile. For use in making sterile disconnections, each disconnector must be fitted to a closed single-use assembly that has been subjected to a validated sterilizing process.
Materials Of Construction

| | |
| --- | --- |
| Component | Material of Construction |
| Main body | Polysulfone |
| Male side plunger | Polysulfone |
| Female side connector | Polysulfone |
| Poppet valve | Polysulfone |
| O-rings | Silcone |
| Anti-actuation collar | Thermoplastic elastomer |
| Anti-disconnection collar | Thermoplastic elastomer |
| Female end cover | Polysulfone |
Aqueous Extractables (NVR)

| | |
| --- | --- |
| Aqueous Extractables | Value |
| Water at 60-65 °C after autoclaving at 130 °C and Gamma irradiation of 51.2 kGy | Typically < 1 mg |
Sterilization Methods
| | |
| --- | --- |
| Sterilization Method | Guidance |
| Gamma irradiation | Maximum 50 kGy |
| Autoclave | 75 minutes at 130 °C |
Operating Conditions
| | |
| --- | --- |
| Parameter | Value |
| Maximum operating pressure and temperature | 3 bar at 40 °C |
Liquid Flow Characteristics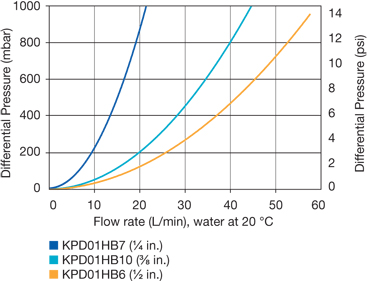 Nominal Dimensions
Description

Dimensions

6 mm (¼ in.)

9 mm (3⁄8 in.)

13 mm (1⁄2 in.)

Total length (A)

156 mm (6.1 in.)

156 mm (6.1 in.)

121 mm (4.8 in.)

Maximum diameter (B)

61 mm (2.4 in.)

61 mm (2.4 in.)

61 mm (2.4 in.)

Internal diameter (C)

6.35 mm (0.25 in.)

9.5 mm (0.38 in.)

13 mm (0.5 in.)

Maximum diameter male side (D)

61 mm (2.4 in.)

61 mm (2.4 in.)

61 mm (2.4 in.)

Maximum length male side once disconnected (E)

102 mm (4.0 in.)

102 mm (4.0 in.)

85 mm (3.3 in.)

Maximum length female sidewith female end cover once disconnected (F)

52 mm (2.0 in.)

52 mm (2.0 in.)

36 mm (1.4 in.)

Maximum diameter of female side with female end cover (G)

36 mm (1.4 in.)

36 mm (1.4 in.)

36 mm (1.4 in.)
Schematic Drawings1
Full Assembly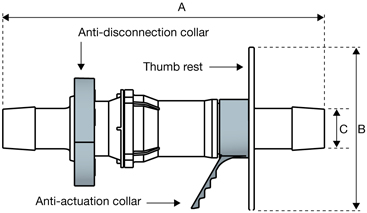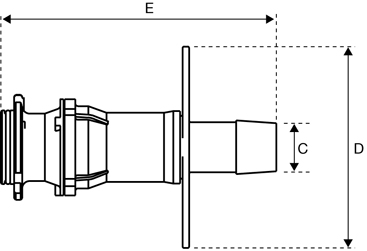 Female Side with Cap - Disconnected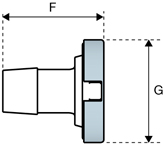 1For illustrative purposes, drawings show 13 mm (1⁄2 in.) hose barb connections