Allegro™ 2D Standard Systems
Point of Product
The Allegro 2D systems are state-of-the art single-use systems designed and built by Pall Life Sciences in order to speed up the current biopharmaceutical production process. These best-in-class systems are available in standard configurations in order to facilitate faster qualification following customer evaluation. In addition, Pall Life Sciences also provides the supporting hardware for these systems in the form of trays used stand alone, or in conjunction with the bioprocess workstation, which are essential best-fit solutions for mobility, storage and handling.
Pall Life Sciences tests and delivers customized Allegro single-use system solutions to our customers to meet specific application requirements. These systems are employed throughout the Active Pharmaceutical Ingredient (API) production process to hold and process product as well as to manage and supply peripheral fluids around unit operations, such as cell culture media, buffer, sampling operations, and cleaning solutions.The systems are supplied as a single standard part number as a fully integrated and validated solution.
Stringent quality control procedures are followed throughout manufacturing and supply process including component selection and qualification, system validation, and manufacturing. Where appropriate, these systems can be used immediately for holding various process solutions during processing. All standard systems are gamma irradiated.
Typical activities these systems can be used for include:
Long term stability studies/shelf life
Compatibility studies
Adsorption studies
Freezing studies
Holding process intermediates when no filtration is required
Leachable studies
The Allegro 2D systems are available with AdvantaPureu platinum-cured silicone or AdvantaFlexu tubing depending on the application requirements.
Quality Standards
The Allegro 2D systems and associated hardware are manufactured under a Quality Management System certified to ISO 9001. The Allegro 2D biocontainers are 100% leak tested during manufacturing. Allegro 2D biocontainers are manufactured in a controlled environment (Class 10,000, grade C).
The materials of construction of the Allegro biocontainers meet:
USP <88> Biological reactivity tests in vivo for Class VI - 50 °C Plastic
USP <87> Biological reactivity tests in vitro (cytotoxicity)
ISO 10993 (biological compatibility)
USP <661>, EP Section 3.1.5 and JP section 61 part 1 (physicochemical tests for plastics)
USP <85> and EP Section 2.6.14 (endotoxins)
USP <788> (particulates)
European directive 85/572/EEC for food contact plastic materials.
The assembled systems undergo stringent qualification and validation as part of the manufacturing process. Additionally, all assembled systems are inspected for quality. A summary of available 2D configurations for the standard systems and detailed design information are shown in Table 1 and Table 2.
Figure 1
Standard Allegro 2D 10 L system on an Allegro tray system LGRTPE20L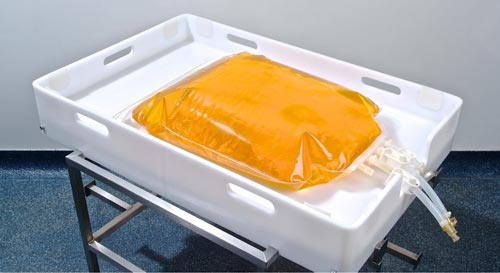 Cell cuture media preparation and storage
Buffer preparation and storage
Product harvesting
Chromatography fraction collection
Intermediate product storage
Bulk product storage prior to filling
Sampling